So why the pink bike you ask?
Let's begin at the beginning. Actually, I am kidding. I won't take you back quite that far. Just to my Niagara beginnings.
I discovered Niagara on my bike! That is the truth. And here is my story!
I grew up in Toronto, and then eventually, wound up in York Region.
Des and I raised 4 kids in Aurora. Once they were old enough to be left alone for just one night, Des and I started driving out to Niagara and staying in various hotels and Bed & Breakfasts. It was always a short but busy getaway, that started with a long bike ride along the Niagara River Parkway, followed by quite a bit of local wine. We felt like we earned it after hours peddling away in the sunshine. And it was always sunny here. No word of a lie!
The toughest part of those mini holidays was going home! I mean we loved our home in Aurora and we were usually happy to get back to the 4 super cool teenagers, but we always felt sad leaving Niagara. So, we would delay the trip back and hop off the QEW in Grimsby, to eat lunch at one of our favourite pubs. We dragged that stopover out as long as possible and then ventured north, over the Burlington Skyway, watching the lake disappear in the rear-view mirror. I made sure to snatch a copy of the local real estate flyer each time, though, and studied it carefully in between visits.
With each visit, Des and I discovered new and beautiful pockets of the area. We often drove around hunting down 'For Sale' signs, once the bikes were loaded back on the car. A pink Sally McGarr Realty sign caught our eye on one of those drives. A pretty & inviting home inspired us to write down her number. It only took one phone call to start the ball rolling. We were now actively searching for our Niagara home! And yes, we did find the perfect one! We packed up our stuff, rolled over the Skyway, in the right direction this time, and never looked back! Okay, not entirely. While we have been back that way to visit, we have never looked back at our decision, other than to say how brilliant it was!
The moral of the story: PINK SIGN +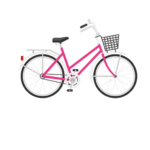 = Happily Ever After